How to Build a Bar for Your Man Cave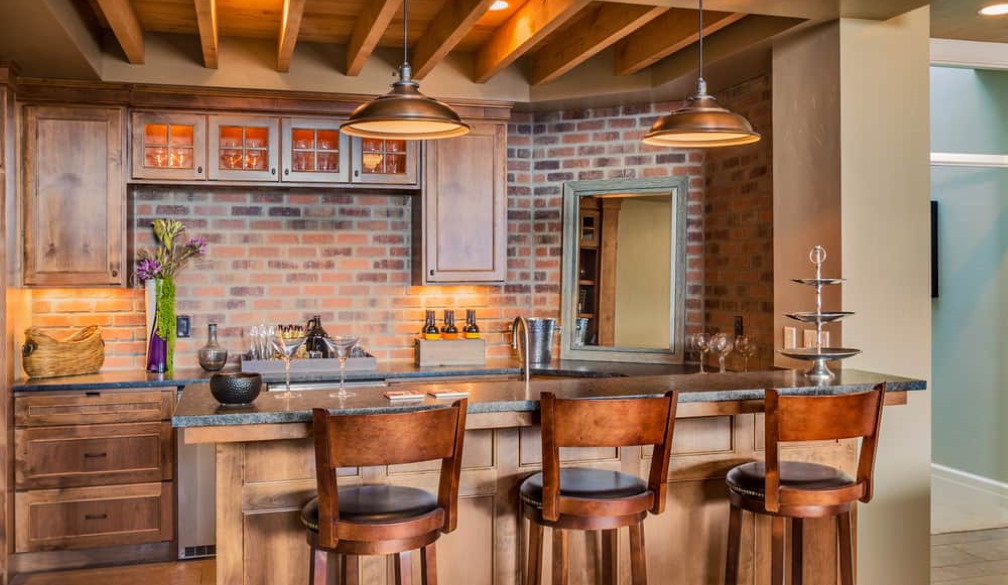 The truth is, every guy wants a place where he can drink and hang out with his friends. Visiting local pubs is fine, but having your own bar in your man cave – Now that's something! If you want to have a convenient spot where you can hide far away from the noise and the crowd, and where you get to choose what kind of music will be playing, then don't waste a second. Build a bar, invite your friends, and let the games begin.
Building a bar is not easy, but it's not that complicated either. And the best thing is – It doesn't have to be expensive. Here's what you should do:
Get the tools
Nothing can be made without proper
woodworking tools
. Buy them or borrow them, it doesn't matter. Here's what you'll need: Drill, Table saw, Nails, Hammer, Screws, Jigsaw and Sander.
Make a shopping list
If you don't have any lumber lying around, buying lumber is your only option. Unfortunately, this might prove to be expensive, but that's a small price to pay for your future happiness. Here's what you'll need:
· Lumber
· Wall paneling
· 2x4" x 8' Wall studs
· 1x4" x 8' Wood molding
Start building!
You'll have to start with the base, and it's recommended that you use the base which is 7 ft x 2 ft. Of course, you can make it bigger, just make sure that you have the parts which will fit the base. Here's the process:
Put the base on the floor– You don't have to do anything to it yet. Cut it with your table saw, sand it if you think that the base is too rough, but otherwise you're good to go.
Attach the supports (8 of them) – The supports should be 42'' high because standard bar stools are about 30-36 inches tall. If you plan on using kitchen stools instead of bar stools, then you need to use the supports that are even shorter.
Secure the supports by using nails and a hammer. For some extra stability, use wood glue on the base and the supports.
Add two horizontal studs to the inside supports for the bottom of the bar table. Again, stability is incredibly important since people will lean on the bar often.
Make the walls of the bar– You can do this by using old or new wall paneling. Don't worry if the color of it doesn't seem to fit your vision – you can always paint it later.
Cover up the rough paneling– Use 1x4s to cover up any rough paneling and to create borders and sand them if you need to.
Put the bar top- A standard bar top should be 16 to 20 inches. You can make it yourself out of wood, or you can buy the bar top on E-bay or Amazon.
That's it; it's really that simple. The only thing left for you to do now is to stock your bar. When it comes to stocking the bar, don't overdo it and spend money on it just to impress your guests. Pick the drinks you actually enjoy drinking. It doesn't matter if you like vodka, beer, whiskey, tequila, or something else. Having a bar at home is a chance to share your personal tastes with friends, neighbors, and that girl you're trying to impress.
The most important thing to remember when building a bar is that it will be yours and yours only. Tailor it to your needs, and don't be afraid to make some changes during the process of making it. Measure twice, cut once, and you'll make a bar in no time!