Written by Mari Chico, PT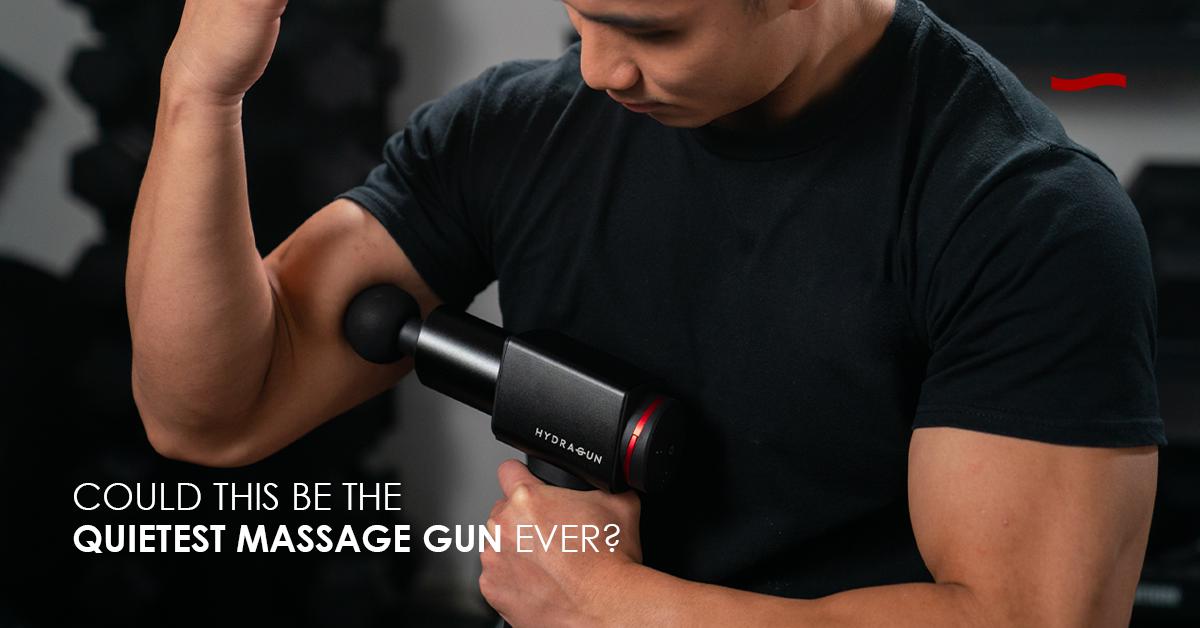 Is it possible to have the quietest and more effective massage gun at an affordable price? Want answers with some facts? Read on.
Back in 2019, I used to watch my friends pro league volleyball games and I've seen how on top of their jerseys, playing shoes, tumblers, and ice packs, they bring massagers with them.
It has become a trend in my volley friends' team for each player to own a piece of this recovery tool called the massage gun. 
As a physical therapist, I was used to operating bulky shockwave therapy machines to relieve musculoskeletal pains and to help speed up recovery among athlete patients. When a compact percussion massager was spotted in the NBA with Kyrie Irving using it during half-time back in 2017, I thought "Whoa! That's cool!"
I thought that it was a great innovation and "Geez! Finally, recovery tools became handy and less complicated."
Though this is cool to have, most of my athlete friends would whine about the annoying sound that a massage gun produces. And for me to have an idea of what they're complaining about, I did some research on how the noise is compared to the sounds we hear every day.
I found an article on earQ stating that the level of noise is relative to a person's distance from the source, and the amount of exposure to the noise can all result in stress, even the risk of hearing loss. The very reason that it is so important to know what makes a sound incredibly harmful and loud.
Based on the chart above, let's check the noise levels of the 5 most popular massage guns in Australia today.



Top 5 massage gun based on sound ranges in decibels (dB)
HYDRAGUN                     
- 30db to 50 dB
(sound comparison: leaves rustling, soft music, whisper to average home noise) 
        Priced at A$399    
HEALSAGE PRO MASSAGE 
     - 42db to 55 dB
(sound comparison: average home noise to normal conversation, background music)
       Priced at A$399.99
HYPERVOLT HYPERICE    
- 50-60 dB
(sound comparison: normal conversation, background music)
Priced at A$599.95
RENPRO MASSAGE GUN 
      - less than 63.5 dB
(sound comparison: normal conversation, background music)
Priced at A$159
THERAGUN PRIME           
- 70-75 dB
(sound comparison: office noise, the noise inside a car at 60 mph to a vacuum cleaner, and average radio sound)
Priced at A$499
Looking at the noise comparison each massage gun produces, could Hydragun be the quietest massage gun ever?
The rewards of having the quietest
If you are a fitness trainer or a physiotherapist, doing a conditioning program for an athlete in a gym, it would be nice if your massage gun's noise does not compete with the background music being played in that facility.
If you are a regular dude working in an office, it would be cool to have a massager that will not add up to the usual office noises.
If you are a non-athlete and just a regular work from home dad that badly needed soft blows to your painful muscles, it will be a relief not to wake up your kids from their afternoon nap or disturb them while they're having their online classes.
And if quietness is on your top 3 (aside from practicality and functionality) buying factors in a massage gun, then there is no doubt that Hydragun is the quietest on the list. And there is only one way you can prove to yourself that this is true. Get your own Hydragun and let me know all about your massage experience.