Written by Mari Chico, PT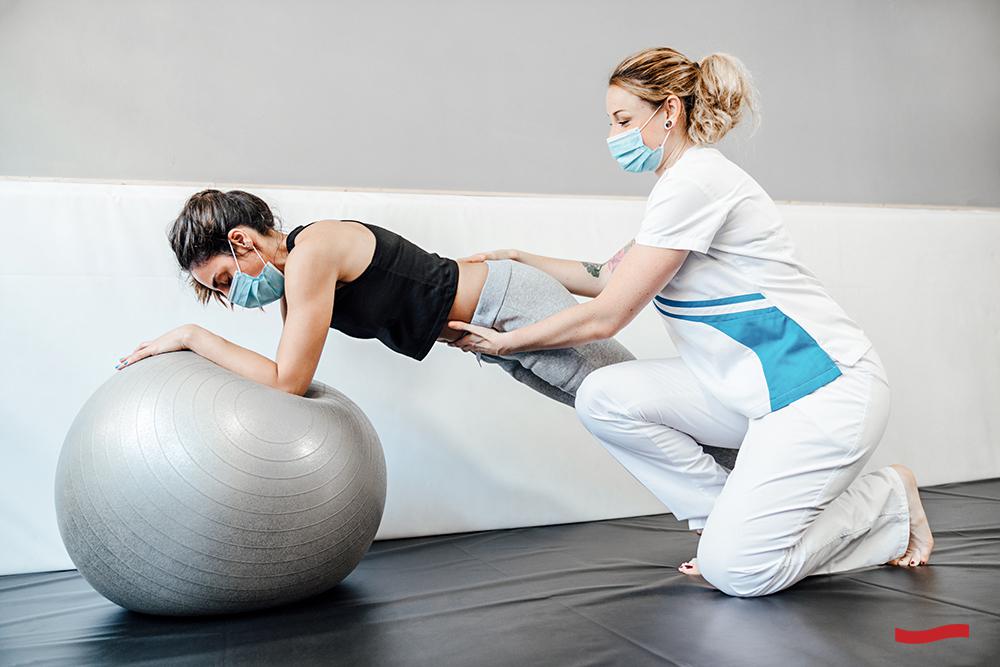 During this pandemic, I was tasked to write a timely and interesting topic: quarantine home remedies. When I was writing this article, the skeptic allied health professional in me kicked in. If you took 5 years to finish physical therapy you'll be a curious freak on what to recommend to your quarantined and working-from-home friends. They would send random messages in a day about their body aches and pains. With them asking about home management or treatment, pain-killers, massagers or a massage gun.
Since I only give online tips for now, I just share exercise guides, send out easy go-to youtube videos (by credible PT vloggers, got to love my own squad) and some handy-dandy home equipment and machines.
These "client-friends" complained of a bunch of postural-induced pains but I'll share the 3 most common among their usual conditions:
Neck Pain, Low Back Pain and DOMS or Delayed Onset Muscle Soreness.
Neck Pain
Can you imagine holding upright a body part (Head/Skull) that is the same weight as a bowling ball all-day long? This is how your neck works. And this tough job can lead to a pain that is locally felt in the nape area that can either be muscular in origin or can be caused by any underlying medical condition being referred to the area. This can radiate to the upper back or even as low as the shoulders down to your arms.
Low Back Pain
This is the muscle tension that tends to build up on the lumbar spine or lower back area, classified as either dull, shooting or stabbing pain. The most common culprit to this type would be bad posture during prolonged sitting or abrupt movement. But there can be a lot of causes or conditions that a low back pain can just be referred to as tender area.
For the most common in athletic and fitness buffs…
Delayed Onset Muscle Soreness
Ever wondered why you felt your body aching not immediately after your intense fitness activity, but way past 24 hours or even after 2 days? This type of pain is caused by micro tearing of your muscles when performing high-intensity exercises. And this is definitely not a result of a good work-out.
To address these common complaints, I would usually recommend handy home remedies such as the regulars in pharmacies-HMPs (hot moist packs, hot Packs w/ silica gel fillings) and topical pain relievers, and an ideal-to-have percussion massager.
I've tried a hybrid one before but got annoyed by the loud noise the motor created. So I'm now on the lookout for the best massage gun in the market…then I remembered this tech-savvy and sporty friend of mine had 2 therapeutic guns at home.
He brings one along for travel and leaves the other one at home so he has access to his "handy PT gadget" all the time. I dm-ed and asked him the brands he bought for some juicy detail and had him read the specifications, just to feed my skeptic and curious physical therapy self and voila! Here's the juicy info I got:
He mentioned two brands- Hydragun and Theragun: The silent monk and hammer jack, funny that he even gave the massage guns namesakes. I wanted to know how these two deliver soft blows on the muscle to promote increase in blood flow, oxygen and relax.
Let's take his key points on the machine based on the criteria below:


THE LOOK- AESTHETICS. BUILD AND MAKE.
Both devices come with sleek carrying cases, which gives a technologically-advanced premium look.
The Aerospace-Grade Aluminum Hydragun device and it's 6 attachment heads - 4 regular (ball, flat, bullet, fork) and 2 stainless-steel (flat, round) are fitted into the hard case. This kit comes with a battery charger and a free universal adapter for countries that do not use UK-type, 3-pin plugs.
The Composite Theragun Pro device and 2 Lithium-Ion rechargeable batteries are housed in the carrying case. Its 6 Attachment Heads – super soft, dampener, standard ball, wedge, thumb, cone has a separate travel pouch and charger.
My take on this, both brands do have a premium design and look. But for the grab and go ease of carrying, I'd go for Hydragun- where everything is all in one bag.
THE FEEL- DEPTH. SPEED. NOISE LEVEL.
Well these 3 factors go hand in hand in a percussive massager. This is where my techy friend shared his personal input on "the experience" and so he went on by saying…
"I use Theragun Pro for big muscle groups, Hydragun while I'm watching tv if not on smaller muscle groups. "
The chart below says it all.
At 14mm amplitude Theragun Pro is 2 notches higher, for a deeper massage, than Hydragun's 12mm. My take on this, Theragun has a deeper vibration penetration but the 2mm is not much of a difference. Each of them will do its job effectively on small and large muscle groups. But definitely for hard massages Theragun will be the Pro to go.
"Theragun Pro is stronger / deeper massage but noisier and Hydragun is quieter"- techy friend ads.
Quoting Spiderman's "With great (motor) power comes great (noise) responsibility"
This will be a bit of a tie-breaker for those who want to have that relaxing massage experience. That goes by saying-if you want a more "spa-like" thing, you have to go for a quieter massager. It's like having a loud and chatty massage therapist versus a zen and silent staff therapy session.


THE EASE OF USE- WEIGHT. BATTERY LIFE.
When it comes to the stress in handling or chances of straining your hands, I'm sure you'll go for a kilo (2.3 lbs for Hydragun) of apples rather than close to two kilos of oranges (2.9 lbs. for Theragun Pro). And when it comes to the comfort of not charging and recharging, let me make a significant comparison. Hydragun has more than a mile advantage with its 3-6 hours battery life while Theragun has its 1.25 hour performance.


THE SERVICEABILITY- WARRANTY. AFTER SALES SERVICE.
So my techy buddy shared that he is quite happy with Theragun Pro's 2-year warranty, an online shop for the replacement accessories and a Percussive Therapy Live Digital Course. He did mention that the features come with a price (we'll get to this later, as I'm a price-conscious buyer myself). While on the other hand, Hydragun comes with a 1.5 year warranty plus good customer and technical support for warranty claims and repairs. They call it the "30-day love-it-or-return-it guarantee".
THE PRACTICALITY AND FUNCTIONALITY- PRICE POINT. PAIN RELIEF. PHYSIOLOGICAL EFFECT.
Hydragun @ A$399.00 with their end of year Christmas Sale is slashing $50 off the purchase
Theragun Pro @ A$899.00 and their limited-time holiday offer is slashing up to $150 off their devices
And as for the pain relief and physical benefit, everything else is about the same. I'd use any of the two devices and apply it on the painful area using the "trigger point technique". Trigger points are the so-called knots, a sensitive point in a muscle or tissue that is tender to touch that can cause localized to general or referred pain.
Using a percussive/vibration device placed on a trigger point makes it more effective in achieving one's goal to recovery. The use of trigger points had been attributed to the history of acupuncture and acupressure. Over the years, thousands at that, these were proven to be effective, backed-up by research, and nowadays by mobile apps.


THE VERDICT
"But I wouldn't mind using Hydragun for everything as well" as my friend concludes. He is a man of few words and a very analytical guy. The type who doesn't mind paying a higher price for a great device, would still go for Hydragun.
To sum up, If I'd send out a best buy advice to my clients and friends, I'd still have the same recommendation as my tech-buddy. I'd tell them to go for the more effective, more affordable massage gun Australia has available. As for the rest of the tips, I'll just walk them through the techniques to help them recover faster and wiser. The quest is over! Hydragun, The Quietest convinced me big time, how about you?
Comment below on what's your pick. Maybe I can share some trick or two on how you can put your own massagers to good use.