New Zealand's Secret (Travel) Agents in Australia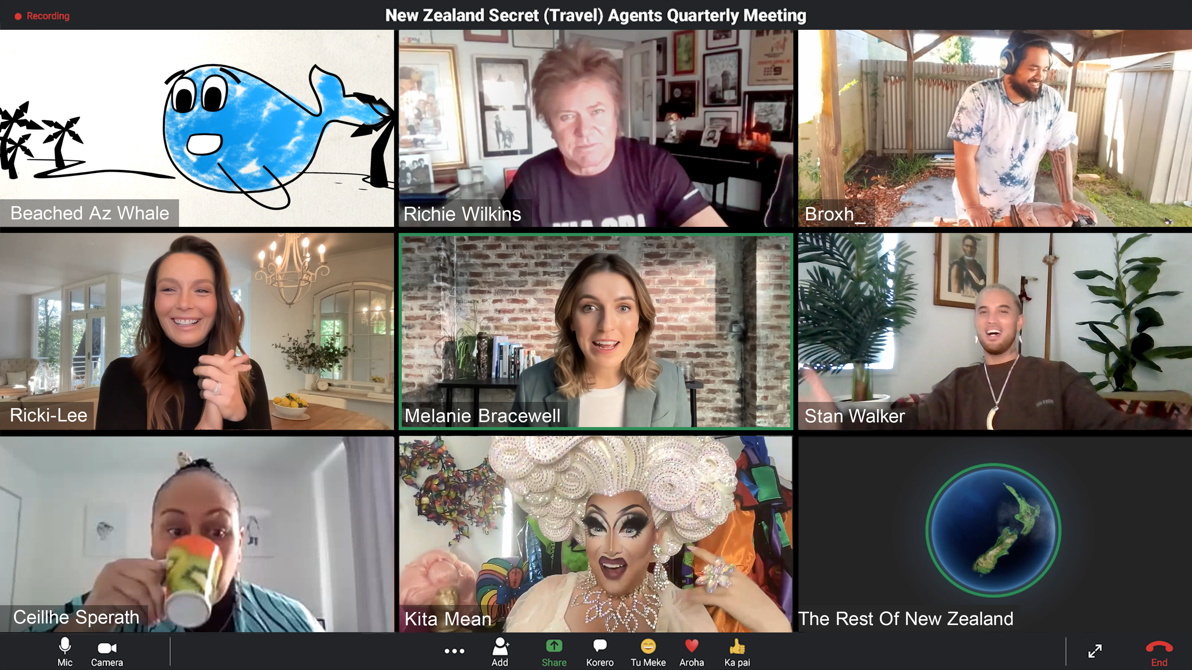 NEW ZEALAND'S YEARS LONG SECRET MISSION
Secret (Travel) Agents revealed, working undercover to remind the world what is unique about Aotearoa New Zealand 
The Kiwi is out of the bag. New Zealand has been secretly planting an underground network of Secret (Travel) Agents. Their mission? To encourage Australians to book a holiday in Aotearoa New Zealand.  
With successfully executed missions like introducing the flat white to Australian culture or reminding Australians of how New Zealand does winter with its longer snow season*, the Secret (Travel) Agents' network of approximately 600,000** has been infiltrating Australians' minds, hearts and mouths for years. 
Now, the identities of some of the agents have been revealed in a recorded video conference. With Melanie Bracewell, Ricki-Lee, Richard Wilkins, Stan Walker, Kita Mean, Broxh and The Beached Az Whale, revealed as Secret (Travel) Agents, who have been working to remind the world what is unique and special about Aotearoa New Zealand. 
The brief is simple yet effective. Find ways to include New Zealand in regular chat, social media feeds, or general conversation. For example, posting a throwback picture from Waitomo Glowworm Caves, sharing your love of a Central Otago Pinot Noir, or simply reminding Australians that New Zealand scallops are just a bit bigger than theirs.  
Those who have experienced the Manaakitanga (warm welcome, hospitality and kindness) of New Zealand's people, have a strong adoration of all things Aotearoa, and are looking to seek more of the uniqueness New Zealand has to offer, will have what it takes to be a Secret (Travel) Agent.  
Kiwi expat, Melanie Bracewell, comedian and Head Secret (Travel) Agent, states: "For Australians seeking out the unexpected, it's time to start planning a trip to see what being a Secret (Travel) Agent is all about. Between taking a flight to see the West Coast glaciers to jumping on an e-bike and doing the Otago Rail Trail over a few days, Aotearoa has you covered." 
Stan Walker, Australian-born Musician and New Zealand Secret (Travel) Agent shared: "Now is the moment for Australians to explore our whenua (land) and satisfy their curiosity with unexpected experiences, culture, and a rich history. The Manaakitanga of New Zealand is something we're known for, and we can't wait to welcome Australians and share our aroha (love) and our welcoming spirit. That's what being a Secret (Travel) Agent is all about, experiencing what Aotearoa has to offer and then finding opportunities you can to share it with others."

New Zealand-born, Australian popstar Ricki-Lee, New Zealand Secret (Travel) Agent, says: "I have been bragging about New Zealand for years and I guess everyone now knows why. New Zealand is unlike any other place. It's where you can really feel the embrace of its people, everywhere you go. From learning to surf in Gizzy, and learning to call it Gizzy, to taking in a show at the theatre, you're bound to make friends along the way and you won't be able to help yourself – you'll find an excuse to share the stories." 
To become a Secret (Travel) Agent, sign up at https://www.newzealand.com/secret-travel-agent to access your first task and learn more about what money-can't-buy experiences you can have in New Zealand. Once trained, new Secret (Travel) Agents will be ready to infiltrate Australian culture, equipped to share the wonders of Aotearoa New Zealand and entice others to visit but only if they seek it.   
For more information and to view the hero film, visit here