Best Ways to Promote a Healthy Lifestyle in Your Kitchen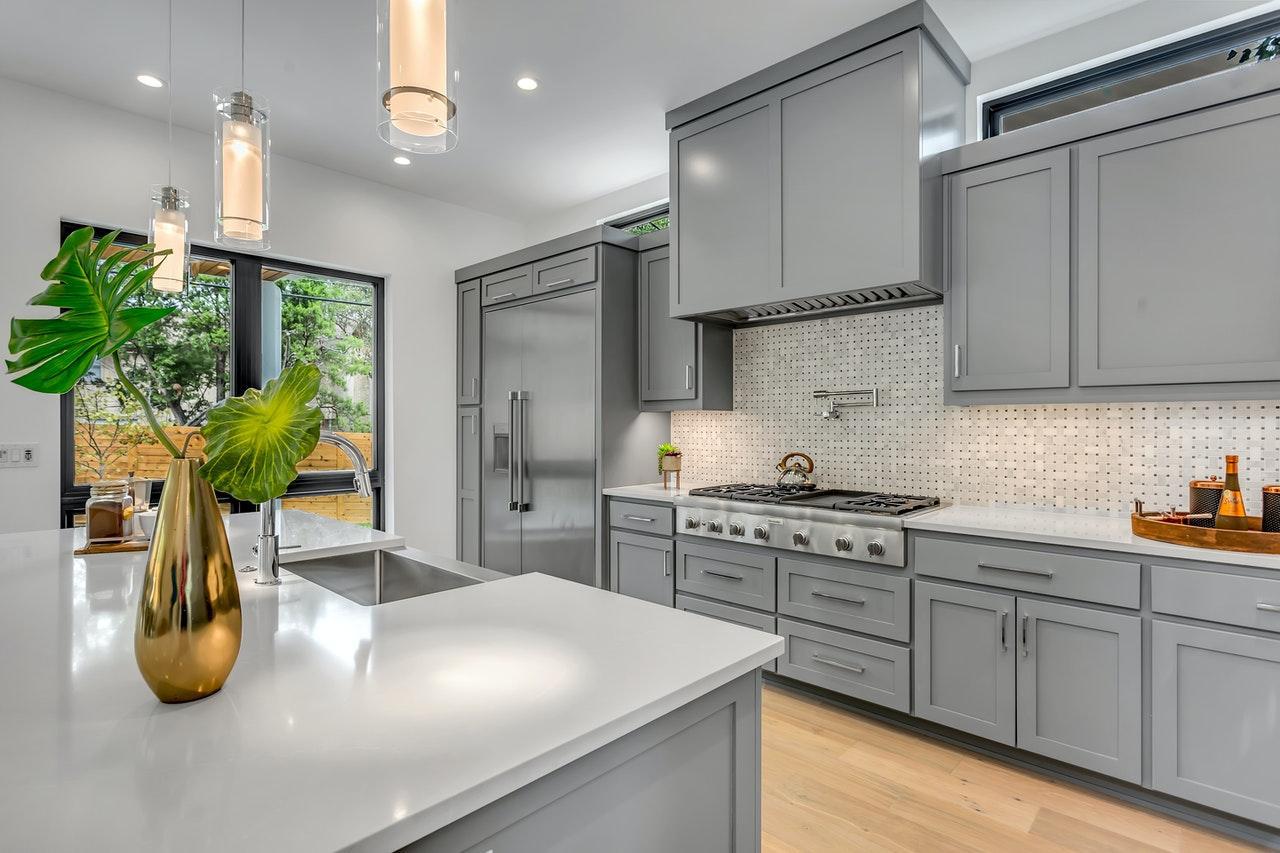 Healthy lifestyle – it is what many of us are trying to achieve, yet it seems as if we're constantly facing obstacles that keep us away from attaining our goals. Even though for many of us our kitchen, more specifically, our refrigerator, can be our number one enemy in shedding those extra pounds, sometimes all you need is to change your way of looking at things. When your kitchen is on your support team, you're much more likely to stay on your path and make healthy food choices, thus achieving your fitness goals. What do you do to make the kitchen your friend and not your enemy? You set it up for healthy eating. Not sure how to do that? Then have a look at these five ways for promoting a healthy lifestyle in your kitchen.


Use calming colors for a serene vibe
When designing your kitchen, it is important to pay attention to the interior color scheme you're going to use. Colors have a big impact on how we feel, and can even affect our appetite. Blue acts as an appetite-suppressant due to its calming effect reminiscent of the sea and sky. To prevent mindless snacking during the day, some even go as far as installing a blue bulb inside their fridge. On the other hand, colors such as orange, red, and yellow are known to boost the appetite as well as the level of happiness. Warm and comforting, these colors cause our body to produce more serotonin – the feel-good hormone. No wonder these hues are used in some of the world-famous restaurant logos.


Design a kitchen that fits both your style and needs
One thing that you need to have in mind when designing your kitchen space is its ability to adapt to your needs. Times change, and with new times come new design concepts. Whether you're prepping healthy meals, cooking, or washing the dishes, the layout you choose for your kitchen has to be able to cater to all your needs. Think about how many people can use it at once and whether it is functional. All these things need to be taken into account before you decide on the kitchen design concept. Once you know what you want, hire the best kitchen manufacturers you can find to ensure all the work is done properly. Let them do the work, build your dream kitchen and translate your ideas into reality.


Keep your kitchen gadgets at hand

When designing a health-oriented kitchen, the convenience factor is an important thing to consider. Be sure to keep your kitchen gadgets at hand – at all times. Yes, it might be hard to have your work surfaces cluttered (in case you're a minimalist), but keeping your smoothie maker and food processor all the way up on top of the highest shelves, and having to bend down and dig through your low kitchen cabinets to find that steamer or slow cooker will only frustrate you, and you'll end up not using them. Dedicate an area of your countertops to those appliances that you use regularly to encourage yourself to eat more healthily.

Ensure a high standard of cleanliness and hygiene
You know what they say – cleanliness is next to godliness, and keeping your living space clean and tidy promotes a positive mindset as well as a sense of responsibility. High standards of cleanliness and hygiene are of utmost importance in all areas of your home, but the kitchen is that one area that you need to keep clean at all times. Tiles are one of those hard-to-clean areas so booking a tile cleaning service will bring them back to shine and will save you time. That also includes keeping your floors and surfaces free of bread crumbs, food scraps, and spills that attract those annoying uninvited guests – pests! According to Fantastic Pest Control Australia, setting up various pest traps is an efficient way to identify the infestation before the pests grow. Whether you're dealing with moths, roaches, or rodents, setting up traps will yield the best results, leaving your home pest-free.

Spruce up your countertops with fresh herbs
An instant way to transform your kitchen space and make it feel greener and health-oriented is to add some greenery. Natural air purifiers, low-maintenance plants such as Snake plant or Aloe Vera will absorb the pollutants from the air, releasing oxygen in return. Fresh herbs will make for a convenient way to make your meals more flavorful and savory, and by using them, you completely eliminate the need for salt (which can be pretty unhealthy). Plus, their lovely green leaves act as a beautiful decor element for your cooking area, lifting up its style and enlivening the whole room.
Sometimes, home improvement equals health improvement, and by bringing some small changes into your cooking space, you can create a positive environment for developing healthy eating habits. Use the tips above to design a space that will bring positive changes into your daily routine and propel you towards a better, happier, and healthier version of yourself.