Australian summer re-imagined in new collection by Andrea Higgs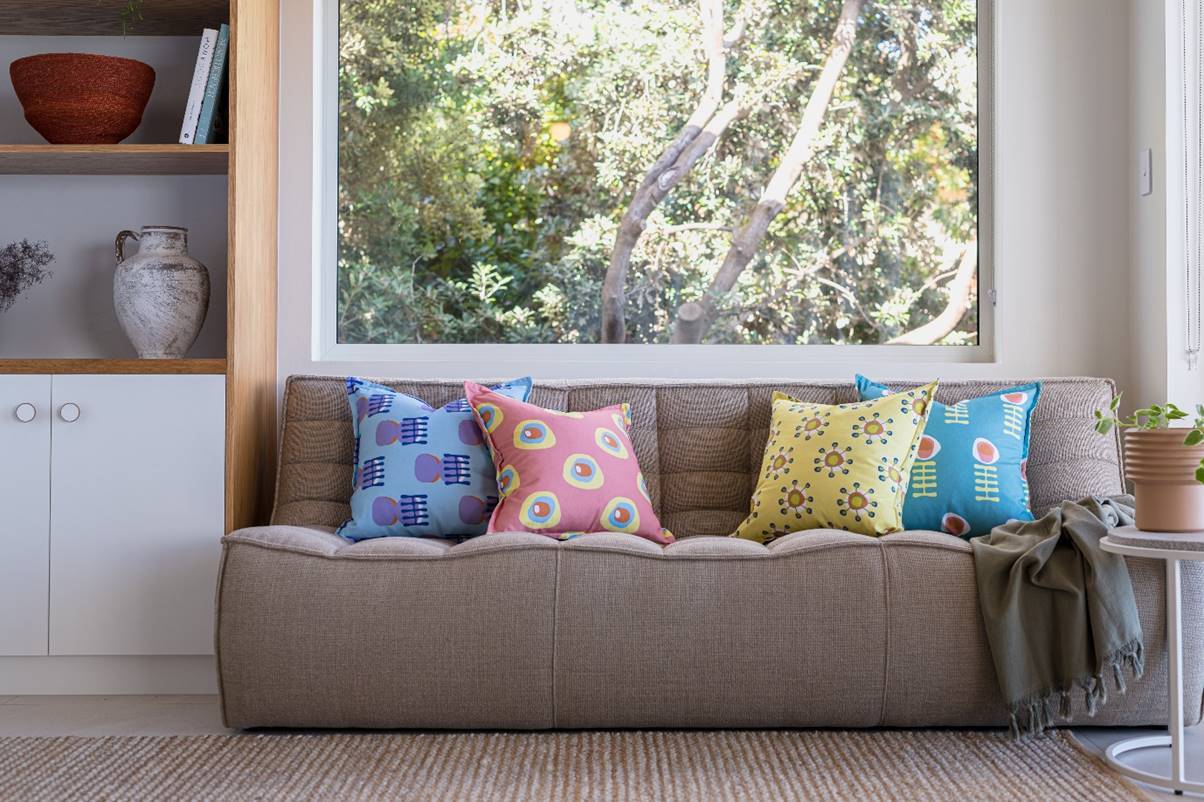 Earth, Life, Moon and Sun are all captured in a stunning new collection of cushions by Andrea Higgs of OLIO Interiors launched today.
Patterns, motifs and muted colours which mirror our red earth, vast blue summer skies, ocean and bright sunlight capture the essence of the Australian summer.
The elements combine to allow for creative interpretation of colour and pattern for every room. It is also an invitation to create your own mix in whichever way you choose to brighten, inspire and imagine in your own home or space.
Andrea Higgs designs have been brought to life by two other female-owned companies based in Australia, which she selected to ensure quality, sustainability and championing women in business.
The hand drawn designs are turned into fabric in Victoria by Frankie & Swiss, a boutique textile company.
The cushions are made up of natural fibre fabrics and printed with non-toxic, solvent free, water-based pigment inks.
The fabrics are then sent back to South Australia where another small female-owned business cuts and sews them into the cushions.
Higgs is a passionate interior designer who runs tours across Adelaide introducing hundreds of people to makers, artisans, artists and purveyors of fabulous homewares.
As her touring and experiences business, OLIO Interiors, shut temporarily - but abruptly - as the COVID-19 pandemic hit, the designer instead spent her time imagining, designing and creating materials inspired by the Australian landscape around her.
"Instead of connecting with artisans and tour participants I decided to pour my energy into creating designs which would bring joy to homes in a year where so many had been deeply negatively impacted.
"In a way I was building a different kind of human connection by providing a glimmer of colour, vitality and beauty to place in people's homes.
"To be human is to be a maker of things. There is an energy in objects which have been dreamed up and created by passionate makers."

Cushions are 100 per cent cotton, $150-170, 50cm x 50cm and can be purchased here https://oliointeriors.com.au/homewares.
About OLIO Interiors

OLIO Interiors was launched by talented interior designer Andrea Higgs in 2017. The company's mission is to help everyone create personal homes full of warmth and connection.
OLIO is here to re-ignite our individual creativity and inspire us to embrace the personality of our homes through a unique collection of interior design experiences in Adelaide.
OLIO's one day tours take small, intimate groups to meet, greet and learn about the Adelaide people and places who are creating and curating fabulous new, vintage, handmade and custom home furniture and objects. 
OLIO's presentations cover a wide range of topics including Living with Colour, Open Plan Living and Designer Bedrooms. Learn practical, fun interior design tips in a relaxed atmosphere while enjoying delicious refreshments.
OLIO's Kitchen Confidential workshop helps break down all that technical kitchen info into everyday terms for people making that major and anxiety-provoking investment in building a new home or renovating their kitchen.
https://www.facebook.com/OLIOInteriorsAU/
https://www.instagram.com/oliointeriors/