Travel Deals from The Whitsundays region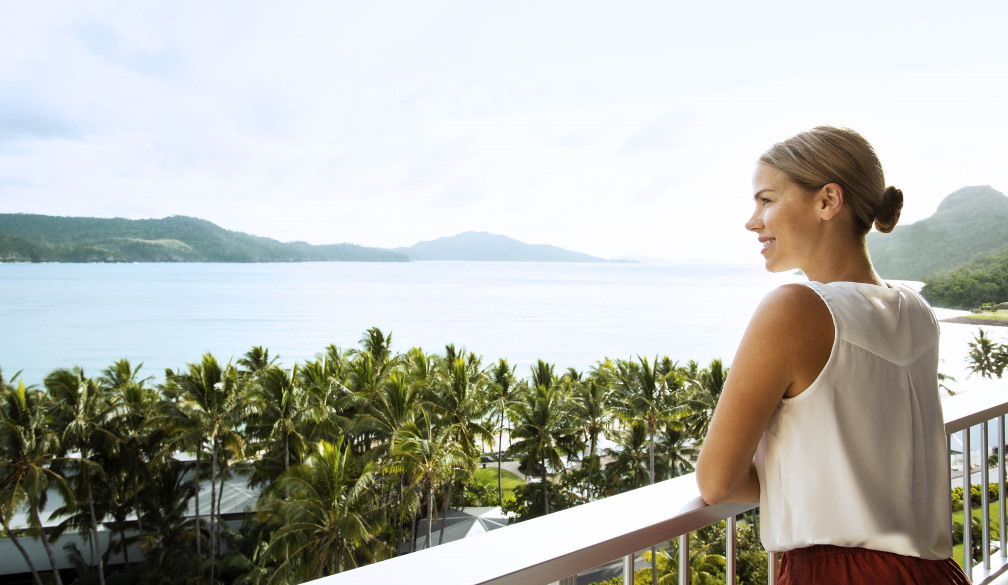 Pay for 4, Stay for 5
Maximise the trip of a lifetime for less and stay for five nights and only pay for four at Reef View Hotel or Palm Bungalows. To experience the very best of Hamilton Island, both accommodations are also offering airport transfers, daily breakfast, island shuttle, and the opportunity to hire catamarans, kayaks, paddleboards, snorkels and more. To top it off, each booking will receive a bonus $150 resort credit per room. Book now for the ultimate holiday.
Book before 25 May 2021.
Stay and Dine
Sleep and eat like a king and queen at Club Wyndham Airlie Beach. Book two nights in a one-bedroom apartment and enjoy a complimentary daily breakfast and a two-course dinner voucher for two at its resident restaurant, Tides. Tides at Airlie Beach offers a bespoke dining experience and one of the most stunning views in Airlie Beach. This special offer allows guests to wine and dine with sunset views just metres away from spacious resort apartment. 
Offer available until 30 Sep 2021.
Ph +61 7 4962 5100, clubwyndhamairliebeach.com.au
The Ultimate Wedding Package
Looking to tie the knot at one of the most beautiful locations in the world? Book a Wedding package with Villa Botanica and receive complimentary hair and make up for three members of the bridal party, or a complimentary frog pond sparkler show. Set near the water overlooking the coral sea with acres of private gardens, Villa Botanica offers an unforgettable wedding experience. Make your special day extra special with these unique offers.
Available until 30 June 2021 for selected wedding packages.
Ph +61 7 4948 3025, villabotanica.com.au
Unwind and Disconnect
In need of a self-care day? There is no better place to relax, rejuvenate, and reconnect than at The Whitsundays. OzSail has teamed up with Soul Shift Warrior to create a relaxing retreat to Dryander National Park, offering tranquillity and crystal blue ocean surroundings. Enjoy a day of letting go, meditation, gentle stretching, swimming, connection, and movement. This intimate sailing retreat includes homemade vegetarian meals for the day.
Available until 30 July 2021.
Ph 0499 697 245, ozsail.com.au/soulful-day-sail-retreat
Holiday Dollar
The Whitsundays Holiday Dollars of up to $200 are now available Queensland residents in the region. Until 30 June 2021, or until the quote of vouchers is exhausted, vouchers can be claimed through participating hotels, The Whitsunday Visitor Information Centre and The Bowen Visitor Information Centre (located at The Big Mango), and the campaign website. Now is the time to extend your stay and experience all The Whitsundays has to offer.
Terms and Conditions apply.
Ph +61 7 4945 3967, whitsundaysholidaydollars.com.au
Overnight Sailing
The world's best sailing holiday is right here in Australia. If you've dreamed of island-hopping in the Greek Islands, sailing along Croatia's famed Dalmatian Coast or boarding a traditional gulet in Turkey, set a course instead for The Whitsundays – Australia's overnight sailing destination. This world-class sailing experience is available for as little as $245 per night, making it the world's most accessible sailing holiday that caters for every budget.
There are plenty of options to choose from, including Tongarra's two-day, two-night social sailing experience, ideal for the young and adventurous travellers. Whether you're travelling solo or in a group, Tongarra with Red Cat Adventures is offering Australia's ultimate alternative to the famous Croatia sailing experience.
Ph +61 7 4945 3967, overnightsailingwhitsundays.com.au
White on Whitehaven Long Lunch by Fish D'vine
The highly anticipated White on Whitehaven Long Lunch by Fish D'vine is quickly approaching, and there are very limited tickets remaining for Sunday 30 May 2021. Wine and dine with VIP guests on the world's best beach. Starting at $349 per person, tickets include a cruise through the Coral Sea to Whitehaven Beach and a seat at the iconic long white table, plus mojitos, bottomless Champagne, canapés, freshly shucked oysters, salmon sashimi and more.
Event tickets start at $349 per adult.
This is an 18+ event.
Ph 1300 318 661, whitsundaytickets.com.au/event/
Arrive in Style with the ultimate VIP entrance to White on Whitehaven
For those feeling more adventurous, you can take White on Whitehaven to the next level by tandem skydiving onto Whitehaven Beach for the event – talk about making an entrance! For $1,164, you can enjoy the ultimate bucket list experience – a 15,000ft skydive onto the world's best beach, followed by the luxuriously White on Whitehaven long lunch.
Exclusive skydiving tickets are $1,164 per adult, including access to White on Whitehaven.
This is an 18+ event.
Ph 1300 318 661, tourismwhitsundays.com.au/white-on-whitehaven/skydive
Year-round tropical climate
The Whitsundays are situated on the same latitude as Rio de Janeiro and Tahiti, and therefore The Whitsundays enjoys a tropical climate with daily temperatures varying little from month to month. The days are warm year-round, and evenings are sultry in summer but cooler in the winter, requiring only a light jacket or sweater. The region enjoys an average of 274 sunny days per year.