Conference Room Design Tips: How to Win Over Your Clients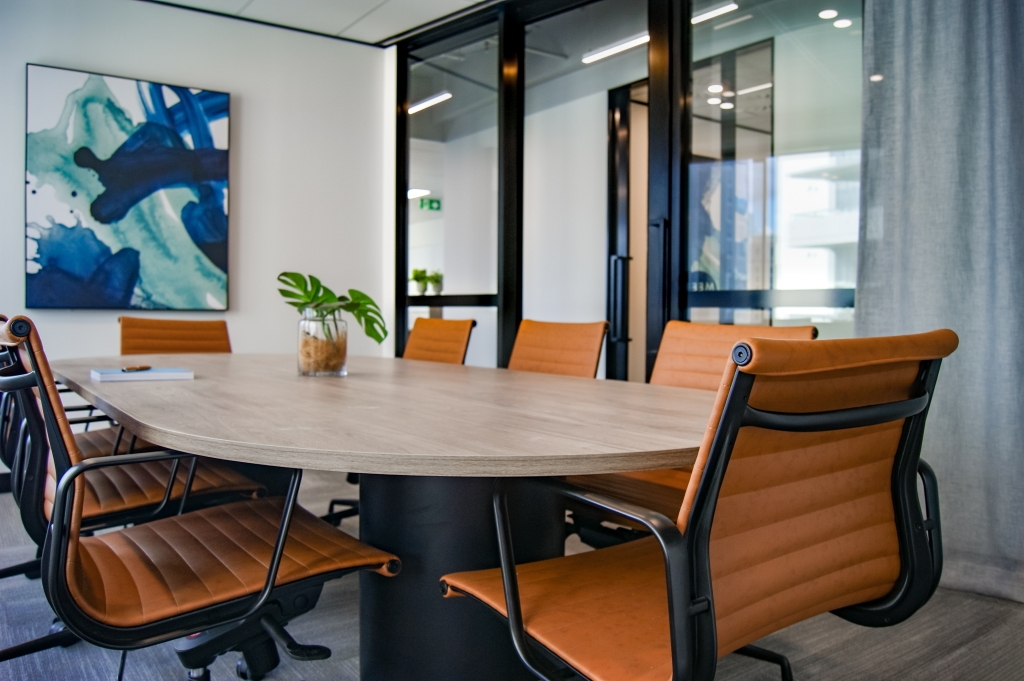 Meetings are a crucial element to every business's operations since after making your clients interested in your products or services, they serve as the perfect channel to impress them and make them sign the dotted line.
There are several elements that make up a good meeting: the products, quality of communication, careful planning of the presentation but the good impression that you are trying to leave can be ruined by uncomfortable chairs, drowsy atmosphere, and malfunctioning equipment.
This is why you need to dedicate some time to the design of your conference room, as an element that will help you land that game-changing client. With that in mind, here are a few things to think about when designing your conference room.


Consider your business
First things first: before you go ahead and purchase any piece of furniture or equipment, you need to think about how you want to represent your business and what your goals are because that room will be where you will discuss ideas and strategies with your employees but also pitch to your clients. We have seen a rise in modern businesses with a less strict corporate culture which also reflected on the office space becoming more unified and less divided into segments and individual offices.
However, the choice between a strict traditional conference room atmosphere or a relaxed modern one depends primarily on your business niche and the message you are trying to convey to your clients. If you are a young start-up, you may want to go with a space that is a bit more laid back to match your creativity, and for somebody offering legal services, you should go with a traditional design enriched with just a dash of modern.


Tend to the lighting
The role of lighting in the conference room design is so much more than just allowing people inside the room to see everything properly. You can use it to dim the atmosphere, accentuate certain features of the room or bring some modernistic vibe to the room. The list of effects you can accomplish with different lighting systems is quite long.
Also, LED lights are something you should definitely consider because it combines aesthetics and being mindful of the environment. One essential benefit that LED brands of lighting products offer is more lighting for less energy which means there is little energy loss, compared to the traditional lightbulbs. It would be wise to stick to human-centric lighting which mimics natural daylight qualities most of the time that you can enrich with some special features if necessary. Of course, you shouldn't go overboard with special effects but it is useful to have more control of the lighting than just switch it all on and off.


Invest in technology
No matter the design you opt for, technology and equipment need to have a major roll in the shaping of a conference room. Nowadays, it is expected to show the clients your solution not just by words and drawings but also through different multimedia channels. Modern businesses pride themselves in technology and use it both as an aid in their mission and to leave an impression on their prospective clients or partners.
When choosing the equipment, you need to consider your business needs and the budget because it makes no sense investing in expensive software tools that your employees and you will not use. You will need one big central screen so that everyone present can see, and also, a white interactive board might be a good idea if you are planning on having dynamic presentations. Modern equipment will allow you to save and email files in various formats, record meetings, as well as communicate with clients across devices, offices and time zones.


Think about the furniture
The furniture needs to satisfy two criteria: to be functional and aesthetically pleasing and depending on your corporate culture, the available space and the budget, you might want to have several conference rooms. For longer meetings that would need collaborative and constructive work, the conference room furniture needs to be first and foremost comfortable, the lighting needs to be plentiful, while an interactive whiteboard can be quite useful.
If you have a smaller separate conference room just for signing contracts and feedbacks, you can choose armchairs for it and a large central piece table which will dominate the room. In case you just have one or two people coming to the meeting, and you are a fresh start-up, you might want to keep the atmosphere light and communication two-way, so you can a few high desks and barstools so that people are free to get up and approach the whiteboard and actively participate in the exchange of ideas. Again, it all depends on the atmosphere you are trying to set.


No matter the size of your business, a conference room is a crucial ingredient in your strategy of winning over clients. It needs to be a reflection of the business goals you are trying to achieve and in accordance with the image you are trying to convey about your business. If designed properly, you will have space which will aid you further prompt your prospective clients to decide to collaborate with you. Your client base will therefore grow and so will your business.