Box Mixers launches at home cocktail mixers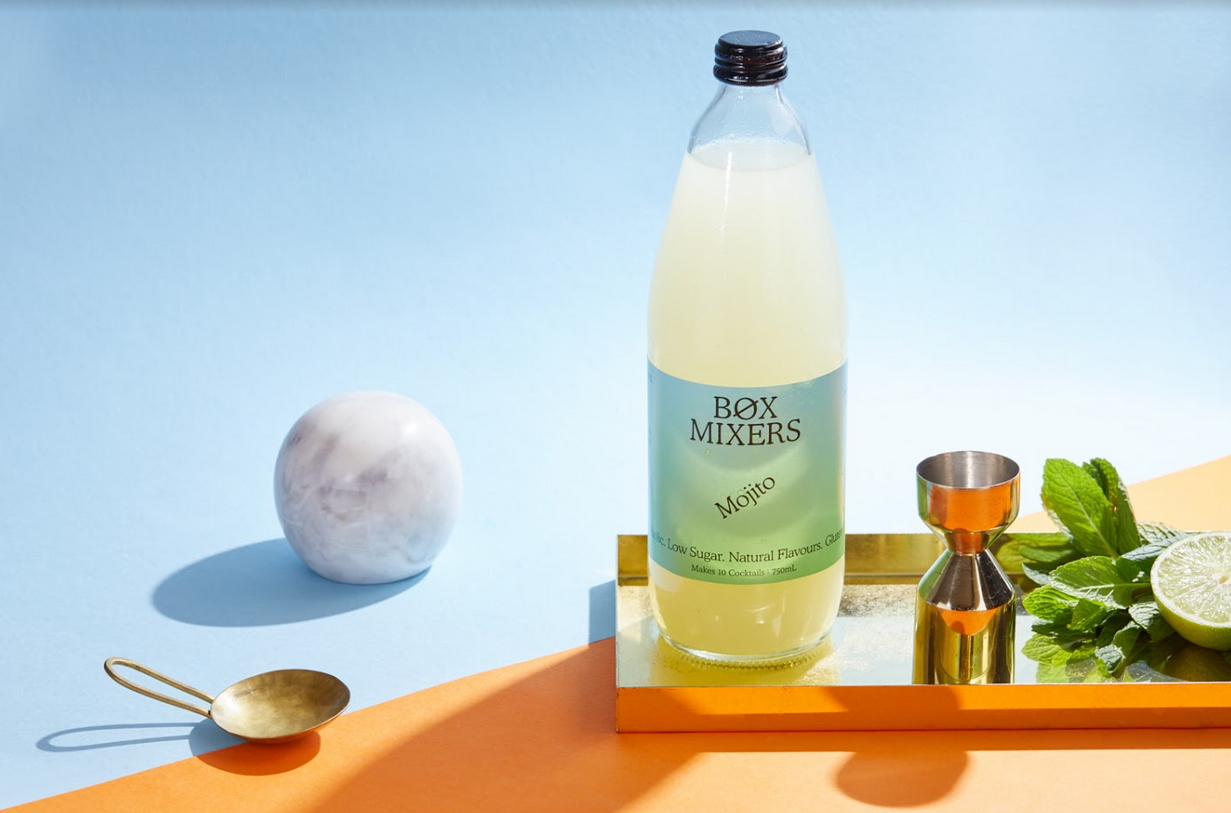 Box Mixers has announced its new range of zero alcohol cocktail mixers, made from all natural flavours, crafted to make drinking cocktails at home simple and convenient.
Designed to appeal to the health conscious consumer, Box Mixers are low in sugar, less than 55 calories per serve, gluten free, are Australian made and owned and are available in resealable and recyclable bottles.
Available in some of Australia's most popular cocktail flavours, Box Mixers have been crafted to make at home cocktails as easy as possible, with only two simple ingredients required to mix a delicious Classic Margarita, Cosmopolitan, Espresso Martini or Mojito.
The Box Mixer Perfect Serve - it's all about doing less without compromising on taste.
Shake Bottle

1 Part Spirit

3 Parts Box Mixers

Shake over ice

Enjoy
Box Mixers can also be enjoyed without alcohol, by simply removing the spirit and serving over ice.
Chilli Marketing Co-Founder, Kieron Barton, "We know that consumers are seeking out healthier, convenient and high quality food and drink solutions, and we saw a huge gap in the market for a mixer brand that has all natural flavours, is low in sugar and tastes great whether you're drinking alcohol or not.  Box Mixers are championing the idea that great cocktails can be part of any social occasion, without the need for you to be a mixologist or leave the house! 
All expressions of Box Mixers are available from Woolworths online and in stores nationally with an RRP of $7.50 for a bottle which holds 10 cocktail serves.
About Box Mixers
Box Mixers is an Australian made and owned non alcoholic mixer brand.
Available in four popular cocktail expressions Classic Margarita, Cosmopolitan, Espresso Martini and Mojito.
Box Mixers are made from all natural flavours, have zero alcohol, are low in sugar, less than 55 calories per serve, and are gluten free.
Box Mixers 750ml bottle makes 10 cocktails and are available at all Woolworth's stores, alongside premium cordials.
Once opened, drink within 14 days and keep refrigerated. 
For more information and serving suggestions, please visit www.boxmixers.com follow us on Instagram at @boxmixers