Winter wellness tips & recipes
Written by

Alicia Holmquest and Bree-Anne Pagonis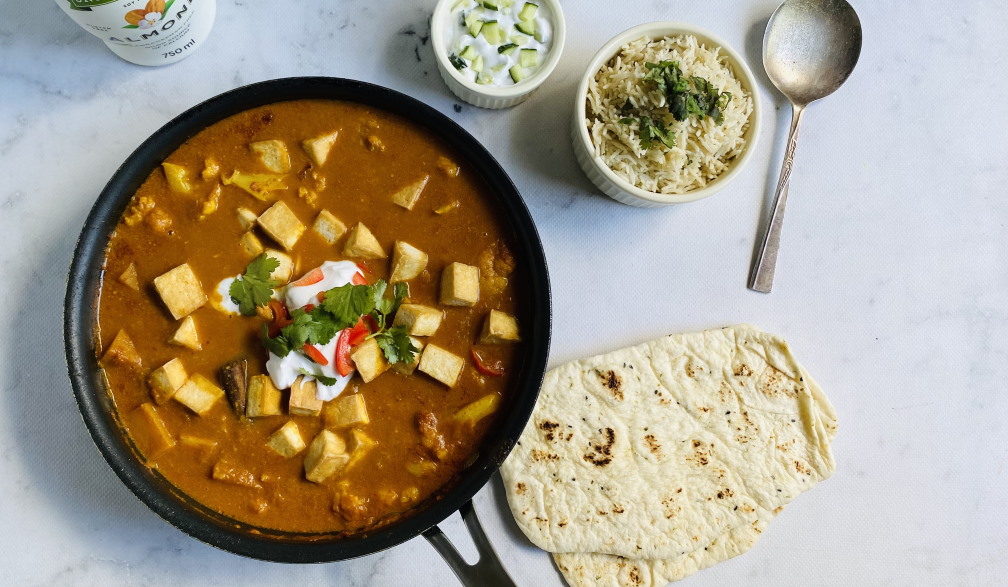 DIETITIAN TOP TIPS FOR WINTER WELLNESS THIS CHILLY SEASON
Winter is officially here (and so if the dreaded sniffle season), so to help give your wellness a boost this year, Califia Farms has teamed up with Dietitians Alicia and Bree from Wellness in Real Life for their top five tips to help nourish your immune system and keep you energised and fighting fit throughout the colder months.
Increase the variety of foods you eat across the day 
One of the best things we can do to ensure we're meeting our daily nutrient, vitamin and mineral requirements and supporting our immune system, is to increase the diversity of foods in our diet.

With only one in 10 of us eating our recommended nutrient-rich veggies each day, it's important we're focused on upping our plant-based diversity! Some quick and easy go-to's for us are:
Breakfast: Topping our wholegrain cereal with fruit, nuts and seeds. We also like to change things up in the milk department with plant-based milks containing added calcium, like Califia Farms Unsweetened Almond Milk.
Lunch: Spicing dishes up by adding roasted chickpeas, a tin of lentils, wholegrains like quinoa, fruit, nuts or seeds and dressing - lemon, mustard and olive oil for the Vitamin C hit!
Dinner: Soups, curries and pastas are the perfect warming dishes. We often stir through plant-based milks for a lighter velvety feel and top with some crunch- nuts, seeds, toasted wholemeal bread bits - so nourishing for those winter nights.
Snacks & drinks: Coffee breaks are a necessity, right? Try swapping out your OG dairy coffee with a plant-based option. Califia Farms Oat Barista Blend has no added sugar, no gums and is such a creamy addition!
Keep up your liquids
We may not feel super thirsty during the winter months but being indoors with heating all day can mean we actually become dehydrated quite quickly. We may start to feel tired, fatigued and even get those nagging headaches creeping in. So, it's extra important for us to find fun ways to keep that cup topped up! Some of our faves include:
Adding fruit or herbs to your water bottle for that extra zing!
Herbal tea, with lemon & ginger being our go-to!
Fruit juice can be a refreshing addition, especially if we add a touch of fruit juice in our sparkling water to spice things up!
Coffee can also count in the hydration game. We sometimes swap our daily latte for XX Espresso Cold Brew Coffee which is refreshing, dairy free and made with 100% arabica coffee beans.
Nourish our gut health
Around 70% of our immune system stems from the gut. So, we try to keep it happy and healthy by including high fibre and prebiotic rich foods in our diet. Foods that are rich in prebiotics include:
Dried dates and figs. We love stuffing dates with peanut butter as an afternoon snack.
Garlic and onion. Pretty much a staple in every meal in our homes.
Red kidney beans and chickpeas.  These make great additions to your winter soups.
Oats. Such a great way to start your day with a warming bowl of porridge.  We often add Califia Farms Oat Barista Blend to our breakfast as a way to up the fibre intake with 2g in every serve! 
Pack in Vitamin C
Vitamin C is a key nutrient in supporting a healthy immune system. It acts as an antioxidant fighting free radical damage in our bodies caused from those nasty invading bugs. We also love that a number of the fruits and veggies in season are high in Vitamin C – it's almost like mother nature is looking out for us. Our go-to's are:
Citrus fruits, such as oranges, lemons and grapefruits
Veggies like capsicum, cabbage, spinach and broccoli
Include Zinc rich foods
Zinc is another important mineral for the healthy development of immune cells in our body. For those following a plant-based diet, you can enhance absorption through soaking, heating and fermenting your plant-based sources of zinc, such as:
Nuts: cashews and almonds
Seeds: pumpkin seeds
Legumes: chickpeas and baked beans.
Whole grains: wheat germ and oats.
And what about winter comfort foods?
"Food is way more than nutrition, food is emotional, so we would never shy away from eating the foods that bring us comfort including the classic Friday night takeaway! But sometimes there's nothing more comforting than a home cooked meal. So, check out some of our fave 'fakeaway' options you can make at home. We've upped the ante making them plant-based like our loaded sweet potato fries with 'cheesy' Califia sauce and our nice-cream sundaes with plant-based iced magic!" says Alicia and Bree.
For delicious plant-based winter recipes, inspiration and info head to: califiafarms.com.au or @califiafarmsau
About Wellness In Real Life
Accredited Melbourne-based dietitians Alicia Holmquest and Bree-Anne Pagonis are two imaginative, balanced and mindful wellness warriors with over 15 years of combined experienced working holistically in the field of nutrition, food supply and consumer behaviour. For more info visit their website wellnessirl.com.au or follow their Instagram here: @wellness.in.real.life
About Califia Farms (pronounced "Cal-uh-FEE-ah" like California)
Inspired by the bounty of California, Califia Farms is on a mission to nourish the world with the wisdom of a plant-based lifestyle. The company creates innovative, healthy and great-tasting premium beverages that make it easy for consumers to go plant-based and dairy-free, without compromise. Califia Farms is one of the fastest-growing natural beverage companies in the U.S., as well as the leading brand in the natural products plant-based milks category. Founded in 2010 by beverage visionary, Greg Steltenpohl, in partnership with a farmer's co-op based in the San Joaquin Valley, Califia Farms is a uniquely California company. Its Bakersfield, Calif. manufacturing plant is powered 100% by renewable energy and re-purposes more than 90% of its post-production byproduct.


CRISPY TOFU & VEGGIE CURRY
A recipe from Wellness In Real Life & Califia Farms
Serves 4
Ingredients:
Curry paste:
1 onion, roughly chopped
2 garlic cloves, roughly chopped
2cm ginger, roughly chopped
½ tsp ground turmeric
1 tsp ground cumin
1 tsp ground cardamom
1 tsp fennel seeds
1 tsp Garam Masala
1 tsp salt
Curry:
1 tsp olive oil
1 block of firm tofu (drain liquid, cover in paper towel and press for about 10mins between the bench and a heavy book to remove any excess liquid)
1 ¼ cups of passata
2 cups of Califia Farms Unsweetened Almond Milk
¼ butternut pumpkin, diced with skin off
¼ cauliflower, chopped into small sections
2 cinnamon sticks
1 red chilli, roughly chopped
½ cup coriander, finely chopped
2 cups of brown rice, cooked according to packet
4 naan bread
Riata:
1 cup coconut yoghurt
¼ cucumber, finely diced
Method:
Place all of the curry paste ingredients into a food processor and process until relatively smooth. You might need to add a dash of olive oil if the ingredients aren't coming together.

Heat the oil in the saucepan, add the curry paste, cook stirring until fragrant. Add the passata, Califia's Unsweetened Almond Milk, pumpkin, cauliflower, cinnamon and chilli.

Reduce the heat to low/medium and cook for around 25-30 mins.

Meanwhile cook the rice and tofu. Slice the tofu into cubes, heat oil in a large frying pan over high heat and fry the tofu until crispy on all sides! Remove and set aside on paper towel.

Mix together the riata ingredients and place into a small bowl, heat the naan according to the pack instructions and cook the rice

When ready to serve place rice, curry and tofu on top. Garnish with riata and coriander and eat with your naan.
"Califia's almond milk gives this curry an EPIC nuttiness and a smooth and creamy texture," says Alicia and Bree.
LOADED SWEET POTATO FRIES WITH CALIFIA 'CHEESE' SAUCE
A recipe from Wellness In Real Life & Califia Farms
Serves 2
Ingredients:
2 x large sweet potatoes (sliced into fries and soaked in water overnight- reduces the starch and makes them crispy)
Corn flour for covering
Olive oil
Salt & pepper
Califia 'cheese' sauce:
30g plant-based spread (e.g. Nuttelex)
1 ½ Tbsp plain flour
1 ¼ cups Califia Farms Unsweetened Almond Milk
2 tsp white miso paste
½ cup plant-based cheese
Toppings:
2 x spring onions (sliced)
1 punnet of cherry tomatoes (halved)
1 avocado (diced)
½ red capsicum (chopped roughly)
¼ red cabbage (shaved)
Fresh coriander for garnish
Method:
Place the sweet potato fries on flat trays (not too crowded) and coat in corn flour, olive oil, salt and pepper

Place in a pre-heated 180 degrees Celsius oven and cook until crispy (about 30-40 mins)

In the meantime, make the 'cheese sauce'. Melt the plant-based spread over a medium heat in a saucepan, add flour and cook stirring for 2 mins or until bubbling. Incrementally stir in Califia Unsweetened Almond Milk and stir over a medium heat until it thickens. Whisk in miso and 'cheese' until smooth. Season with salt and pepper.

Once the fries are cooked and crispy, place all onto 1 tray.

Top with lashings of the 'cheese' sauce and top with pre-prepared vegetables, garnish with coriander and enjoy!
"We've made these loaded sweet potato fries with Califia Farms Unsweetened Almond Milk 'cheese' sauce. It's dairy free, no added sugar PLUS it's packed with Calcium! All plant-based and all good," says Alicia and Bree.
CALIFIA MINI NICECREAM SUNDAES WITH PLANT-BASED 'ICE MAGIC'
A recipe from Wellness In Real Life & Califia Farms
Ingredients:
Sundae:
2 cups of frozen banana slices
2 Tbsp Califia Unsweetened Vanilla Almond Milk
Plant-based 'ice magic'
½ cup almond milk chocolate
1 Tbsp coconut oil
Toppings:
Glace' cherries
Sprinkles
Crushed peanuts
Method:
In a blender blend the frozen banana until it forms a bread crumb like consistency.

Through the safety funnel, add the Califia Unsweetened Vanilla Almond Milk slowly to incorporate the mixture so it's smooth like soft serve.

Place into a tray, smooth the top with a spoon and freeze for at least an hour (ideally overnight) or until firm to touch.

Before serving make the plant-based 'ice magic' by placing the almond milk chocolate and coconut oil in a microwave safe container and microwave until melted and combined.

Scoop nicecream into serving dish, drizzle with plant-based 'ice magic' and top with your favourite toppings!
"Ooooooooof nothin' better than a sundae with a cherry on top, except when there's plant-based iced magic involved! Using Califia's Unsweetened Vanilla Almond Milk just means there's no added sugar PLUS it's packed with Calcium! You won't believe your eyes or tastebuds cause this vanillary milky bananary mix is ridiculously delicious while being dairy free!" says Alicia and Bree.
WARMING WINTER CHAI WITH CINNAMON SUGAR
A recipe from Wellness In Real Life & Califia Farms
Serves 4
Ingredients:
3 Tbsp loose leaf black tea
4 cups of Califia Farms Oat Barista Blend
1 Tbsp maple syrup
1 tbsp cinnamon
Chai spice:
2 tsp cinnamon ground
1 tsp cardamom ground
1 tsp black pepper ground
1 tsp cloves ground
2 tsp ginger ground
Method:
Add all dry ingredients together into a saucepan over a medium heat

Stir to quickly combine and add the Califia oat milk

Bring to the boil then turn to low and simmer for 4-5 minutes

Stir in maple syrup

Strain with a fine tea mesh strainer

Sprinkle with extra cinnamon on top!

Enjoy in your dressing gown and Ugg boots while curled up with a book in front of the heater!
"This oat milk is seriously the bee's knees with no added sugar, fortified with calcium and creamy deliciousness. It's now available in the long-life milk aisle at Woolworths!" says Alicia and Bree.
About Wellness In Real Life
Accredited Melbourne-based dietitians Alicia Holmquest and Bree-Anne Pagonis are two imaginative, balanced and mindful wellness warriors with over 15 years of combined experienced working holistically in the field of nutrition, food supply and consumer behaviour. For more info visit their website wellnessirl.com.au or follow their Instagram here: @wellness.in.real.life