Keep it light and fresh with these easy seafood recipes from FishMe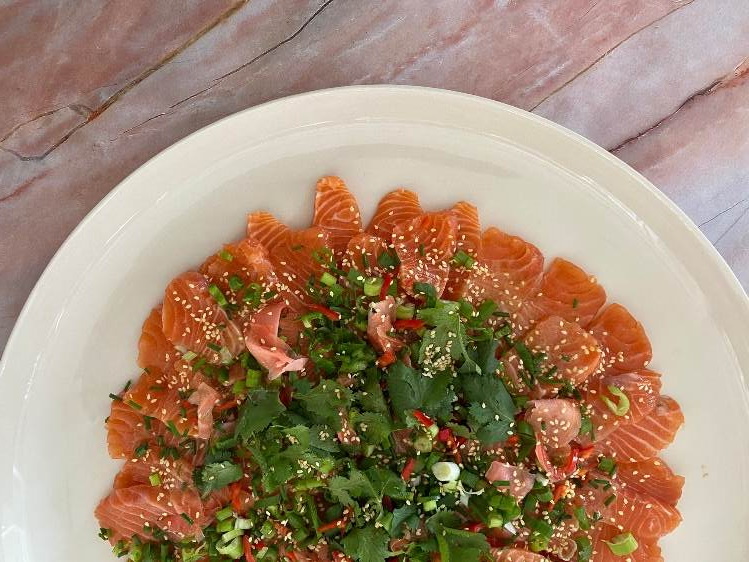 As the warm weather continues, Aussies are looking for bright, tangy, and simple dishes to enjoy on a balmy evening or when entertaining for loved ones. Showcasing the best of Sydney's seafood, these delicious and easy recipes require only limited ingredients but are guaranteed to please.
FishMe! Sydney's brand new one-stop-shop for the finest, freshest, and biggest seafood delivered right to your door, has partnered with Phoodie to bring their produce to life in two incredible recipes. Phoodie, well-known Australian food blogger who studied at world famous Le Cordon Bleu cookery school, is inspired to help Aussies make delicious seafood dishes without the stress this New Year.
Prepared to be blown away- there's nothing not to like!
Phoodie's Salmon Sashimi with Ponzu Dressing

Ingredients
1kg Salmon sashimi, sliced thinly
½ cup pickled ginger
½ bunch coriander, leaves picked
½ bunch spring onions, chopped finely
1 tablespoon sesame seeds, toasted
½ bunch chives, chopped finely
1 jalapeño chilli, chopped finely 
½ red chilli, chopped finely
Dressing
2 tablespoons ponzu
1/3 cup vegetable oil
juice of 2 limes
zest of 1 lime
1 tablespoon soy sauce
½ teaspoon sesame oil
½ teaspoon honey
Method

Arrange the salmon, as pictured, on a very large, round platter.
On top of the salmon, scatter the ginger, coriander, spring onions, sesame seeds, chives and chillies.
Combine all dressing ingredients in a jar and shake well. Taste and adjust ingredients as needed.
Spoon desired amount of dressing over the dish and serve immediately. Extra dressing keeps in a jar in the fridge for a week.
Phoodie's Grilled Baby Octopus Salad
Ingredients
1 kilo baby octopus, grilled
2 teaspoons salt
1 teaspoon pepper
1 clove garlic, crushed
4 tablespoons extra virgin olive oil
1 bulb fennel, thinly sliced
¼ bunch spring onions, finely chopped
10 baby white potatoes, peeled and quartered 
1 cup Sicilian olives
½ bunch parsley, leaves removed
½ bunch dill, stalks removed
4 celery stalks, finely chopped 
Dressing
¼ cup lemon juice, freshly squeezed
½ cup extra virgin olive oil
½ teaspoon salt
¼ teaspoon pepper
1 teaspoon Dijon mustard
½ teaspoon honey
Method
Place the octopus in a bowl with the salt, pepper, garlic and EVOO. Mix well and allow to marinate for 30 minutes.
Peel, quarter and boil the baby potatoes until just cooked through. Test with a knife to ensure they are ready.
Prepare all the vegetables and herbs according to the ingredients list above and toss together with the olives in a large salad bowl.
Combine all of the dressing ingredients in a jar. Shake well and set aside.
Cook octopus over a hot grill plate for 4-5 minutes until the octopus curl and are just cooked through.
All octopus to cool slightly and then toss through the salad.
Dress and serve.
For more information about FishMe, https://fishme.com.au/