Slimline Pools – Everything you need to know
Written by

NewsServices.com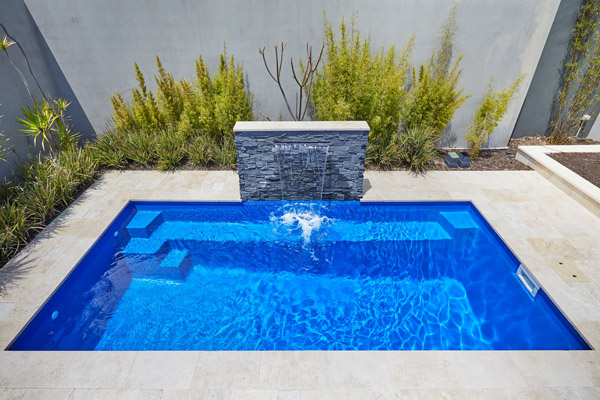 Whether you're looking for a sleek and stylish pool to fill a narrow space or a smaller pool for the kids to learn to swim in, a slimline pool has it all. With safety ledges and generous swim outs a slimline pool makes the perfect addition to any home. Before making any decisions, you should have a basic understanding of what a slimline pool is and the features that they offer. Here is everything you need to know.
What is a Slimline Pool?
Slimline pools have been designed to have much of the same functionalities that a family sized pool does, they are just slimmer than a normal pool. They are a good choice for those wanting something considerably larger than a courtyard or lap pool but more compact than a family pool. Slimline pools have a multitude of uses including fitness, entertaining and relaxation. A good quality fibreglass slimline pool should have added safety features such as non-slip surfaces, varying depths, and safety ledges and steps.
What sizes do Slimline Pools come in?
Slimline pools are rectangular and narrow in shape and are normally around 2 to 4 metres wide by approximately 7 to 10 metres long. Most fibreglass pool companies offer a generous selection of slimline pools in a variety of sizes so you can choose one to suit your backyard and swimming needs.
How do you make a Slimline Pool?
Fibreglass slimline pools are built onto a mould in a manufacturing plant. They are constructed using numerous layers of superior grade fibreglass and are extremely strong and long lasting. Once you have selected your slimline pool, necessary paperwork will be lodged on your behalf and then it is as simple as getting your pool delivered to site and installed.
Can I design my Slimline Pool?
You are unable to change the shape of fibreglass pools as they are premade. However, there are many ways you can add your own personal touch. Here some of the most popular features included in a slimline pool installation:
Pool scaping
You can influence the look of your pools surrounded with your personal style and taste. If you have a generous sized backyard, the pool will only take up a portion of that which leaves plenty of room to add features that suit your design ideas. Pool scaping can be anything from furniture to greenery, or an outdoor space such as an entertaining area. You are only limited by your imagination.
Swim or spa jets
There are two different types of jets that can be installed in a pool and they include swim and spa jets. Both have different uses. Swim jets are primarily used for swimming laps against as they create a continuous forceful current that creates resistance whereas spa jets are intentionally installed to use for relaxation purposes. They emulate the effect you would get from a regular spa and can be used to relieve tension and ease sore muscles.
Heating
As slimline pools aren't as big as family pools, they heat far more cost effectively and efficiently. Many of us don't go swimming in winter which means the pool isn't getting used. Installing heating means you can enjoy your pool year-round.
Add a spa
A spa incorporated in a slimline pool design can add to its appeal. Some have overflows which allow water to flow from the spa to the pool which creates an additional design feature. A spa can provide a place to relax after a long day's work.
LED lighting
LED lighting is a simple and effective way to transform the look of your pool. You can choose lighting that changes colours and alternate the colour to suit your preferences.
How long will it take to install a Slimline Pool?
All going to plan, a slimline fibreglass pool can be installed in a matter of a week. Unanticipated factors such as prolonged bouts of rain, delayed council permits and whether you have ordered a pool in the peak period can extend the time frame that your pool will be installed.
How much is a Slimline Pool?
This is typically one of the first things we get asked by potential pool buyers and understandably so, it is a substantial investment and you want to be sure you are getting the best value for your money. It is very difficult to give an exact price as there are so many factors that can affect the overall cost of a slimline pool. Depending on the size you choose, the layout of your backyard and additional features you want to add in your pool, you are looking at around $25,000 and upwards for a professionally installed slimline pool. This is just a ballpark figure, to get an accurate price it's best to contact your local pool builder. Most of them will come out to do a free onsite quote. At this time, they will assess your property and discuss your design requirements.
Benefits of a slimline pool
Some benefits of a slimline pool include:
Easy to clean and maintain

Great for narrow backyards or limited space

They use less chemicals and water

Ample room for numerous people to swim at the one time

Modern and contemporary designs

Generous seating areas and safety ledges for the kids

Plenty of space to swim laps and keep fit

Improve overall health and wellbeing
Why is a slimline pool a good choice?
If you love the idea of having a swimming pool in the backyard but you don't have a great deal of space, a slimline pool could be the perfect fit. They have enough room for multiple people to swim freely in whilst being compact enough to reduce running costs, water consumption and energy use. They have safety ledges and generous seating which makes for a great spot to sit and relax as well as safer for younger children who are learning to swim and need regular rests. Slimline pools are contemporary in design and are sure to suit any backyard and swimming requirement.
If you are considering a slimline pool for your home and you require additional information, get in touch with our friendly team here at Factory Pools Perth. We have many years' experience installing slimline fibreglass pools and will happily answer any questions you may have.