The Aussie Man Launches Debut Range of Men's Grooming Products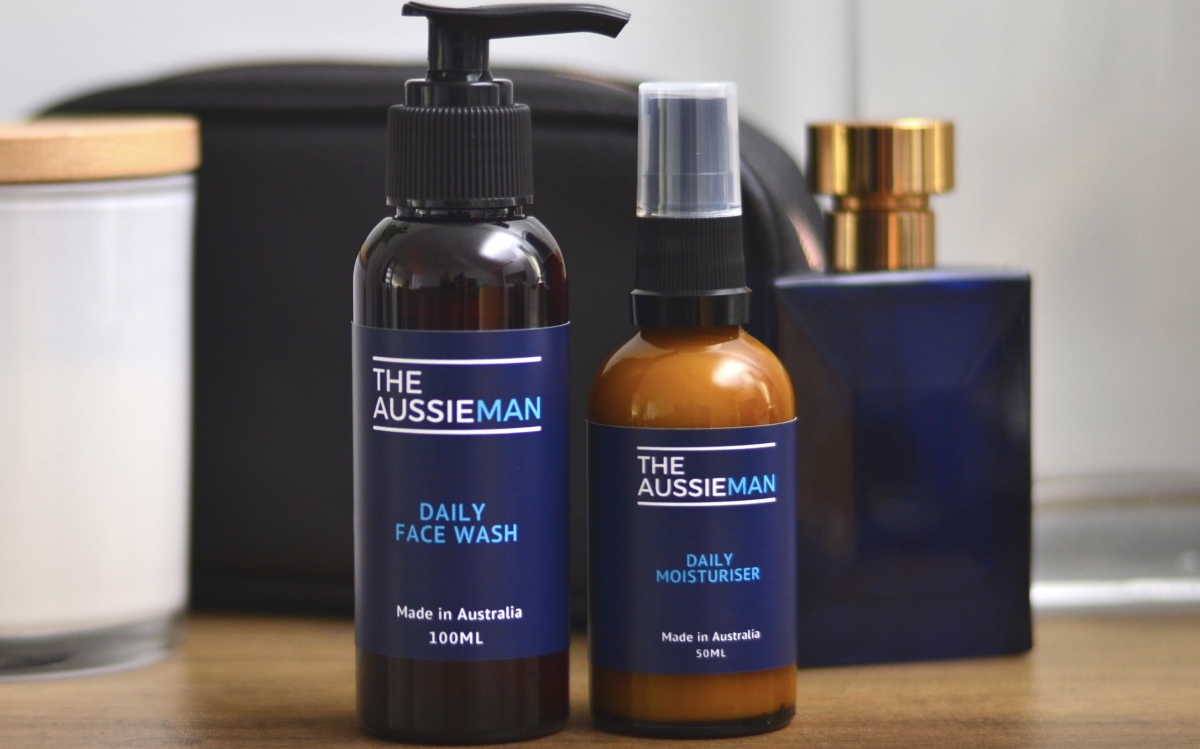 Brand new Australian made men's skincare company The Aussie Man has today announced the launch of their new range of organic skincare. 
The Aussie Man uses hero natural ingredients such as Seaweed, Pineapple, Cucumber, Sea Buckthorn, White Willow Bark and Papaya, to name but a few. All products are handmade right here in Australia, are 100% vegan, ethically sourced and cruelty free. The products are made with natural, nourishing ingredients without any artificial or synthetic ingredients so blokes know exactly what they are putting onto their skin. 
The Aussie Man boasts products from a Daily Face Wash which has a foaming gel formula that delivers deep cleansing and a spectacular antioxidant boost to your skin to the Ultimate Serum which is a multifunctional serum that uses plant-based collagen (from seaweed) to help repair and strengthen the skin's natural collagen and elastin.
The Aussie Man has curated product sets, designed to last 30 days, so men who love the products can subscribe and save 25% on the various sets. 'The Skin Essentials Kit' is perfect for the man wanting to sample the core products in this new collection and includes the Daily Face Wash, Daily Moisturiser and Intensive Eye Cream. For those looking to seriously improve the appearance of their skin, repair damaged skin cells, and brighten the eyes, the 'Daily Hydration and Booster Set' includes the 'Skin Essentials Kit' plus the Ultimate Skin Fixer Serum. 
Additionally, the 'Anti-Ageing and Skin Repair Set' is ideal for guys with more visible signs of ageing looking to repair, nourish and rejuvenate the skin. The full set will help men address the appearance of fine lines and help reduce the signs of ageing, as it includes Daily Face Wash, Anti-Ageing Elixir, Daily Moisturiser and Intensive Eye Cream. These packs are suitable for all skin types, particularly oily or combination skin. 
The Aussie Man was created amidst the COVID-19 lockdown, when Founder David Willey was unable to do his normal work for experiential and marketing business Growth Tank. He commented: "I had felt frustrated looking for quality skincare products for myself that weren't overpriced, were Australian made and offered anti-ageing natural elements as well."
"During the lockdown, my work had been put on hold, with no conferences and events taking place. So I decided to look into how I could create the ideal range of skincare products for men, filling this clear gap in the market for uncomplicated yet effective men's skincare, and The Aussie Man was born."
Product Details:
Daily Face Wash (100ml): The deep cleansing Daily Face Wash helps your skin feel refreshed, balanced and completely invigorated. Its foaming gel formula delivers deep cleansing and a spectacular antioxidant boost to your skin. Great for all skin types and a critical step in your anti-ageing skincare routine, this Sulphate-free blend works to remove damaging pollutants and in turn, prevent free-radical damage that can lead to premature ageing. 
Daily Moisturiser (50ml): The lightweight dual-action, fast-absorbing daily moisturiser tackles dead skin and deeply hydrates. Use as the last step in your routine to leave your skin feeling brightened, refreshed, renewed and decongested.
Active Natural Ingredients: 
White Willow Bark

Papaya 

Pineapple 
Intensive Eye Cream (15ml): The intensive eye cream, when used daily, will help tackle dark tired circles and reduce that puffy eyes look. Eyes will look refreshed and awake as the cream strengthening capillary walls and firms the skin around your eyes. 
 Active Natural Ingredients: 
Sea Buckthorn

Cucumber

Resveratrol
Ultimate Skin Fixer (Serum - 15ml): This multifunctional serum uses plant-based collagen (from seaweed) to help repair and strengthen the skin's natural collagen and elastin. Vitamin C brightens the appearance of the skin texture instantly, while the Hyaluronic Acid hydrates and plumps the skin tissues.
Active Natural Ingredients: 
Hyaluronic Acid

Collagen

Vitamin C
Anti-Ageing Elixir 15ml: The anti-ageing elixir contains a potent blend of nutrient-rich oils that have outstanding anti-ageing properties. Through the use of the active ingredients Gotu Kola, Shea Oil and vitamin-rich Sea Buckthorn extract repairs, nourishes and offers deep tissue rejuvenation. Suitable for all skin types, especially good for mature, ageing skin types.
Active Ingredients: 
Seabuckthorn Berry

Gotu Kola

Vitamin E
For more information visit: theaussieman.com